Literally translated from Afrikaans to English, Kleinmond means "Small Mouth". This refers to the mouth of the lagoon that opens into the ocean every odd or so year. I had the fortune to have grown up in this area, as my granddad owned a house there. Like many before him, and hopefully many after us, this area has become a family destination. In this post, I want to share with you the beauty of Kleinmond and the surrounding area. I will take you on a virtual journey of Jean's Hill, a very easy and small hill to climb with immense beauty, the long-ish beach, and the very interesting tradition of giving your house a quirky name. There is also plenty to see, do and eat. Please take this visual and virtual trip through Kleinmond with me!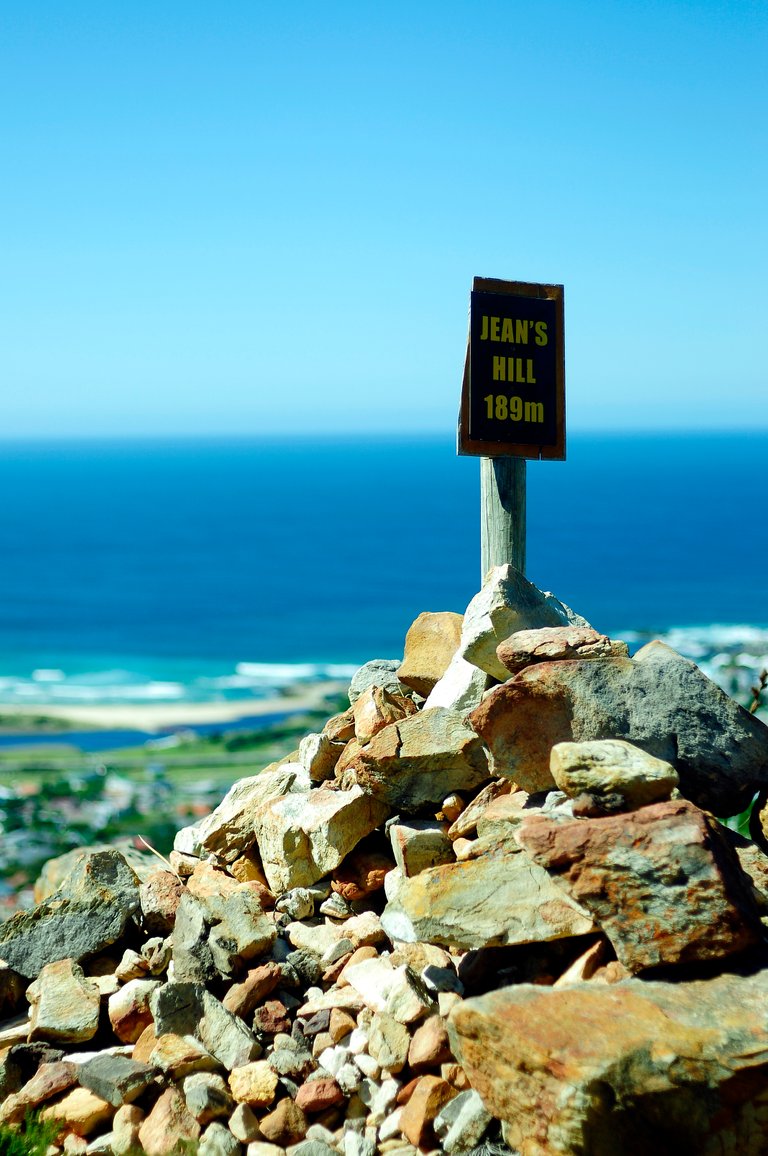 My Personal History with Kleinmond
As noted, when I grew up, the family always traveled to Kleinmond. Eventually, my dad inherited the house and me and my brother worked countless hours on the property, in the garden, and maintenance of the house itself. I think most people have a holiday destination that is very close to them, and Kleinmond is such a place to me. I love to just "break away" or get away from my studies and the busy lives we live by visiting this coastal town. It is only a couple of kilometers away from my current dwelling, so there is always a reason to go there. At night you hear the ocean and the breaking waves, and there are no car and city noises. Plus, the beauty of the Fynbos protected area and the long stretch of beach is perfect for a long afternoon stroll.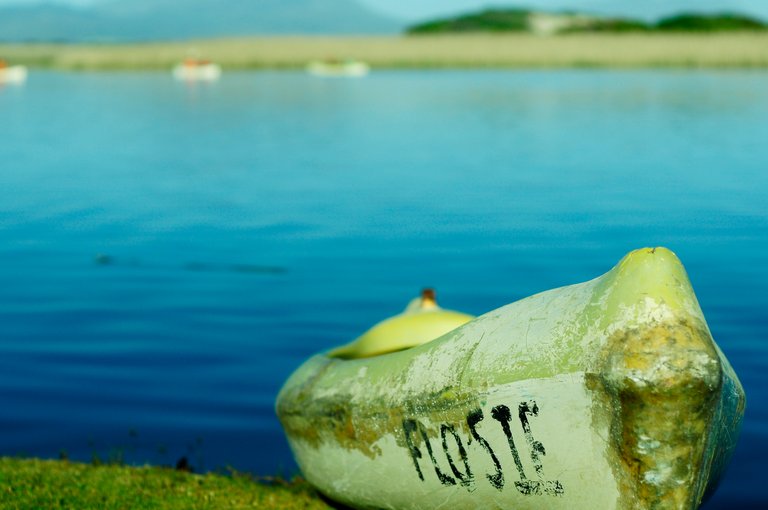 A Brief History of Kleinmond
Well before any settlements, the area was used by the Khoe people as a fishing spot. Various fish traps and equipment were found in the area. Also interestingly, the area was used by "outlaws, runaway slaves, criminals, and the remnants of [Khoe] tribes". After this period, farmers started using the area as a vacation site, and till this day it is still mainly a vacation destination for many people. A historical monument, a very old tree, has been named "Die Preekboom" or the sermon tree. A recent article going around in the local newspaper is on efforts to help the tree, as it is very old and the winds that blow through this area are really bad. I really hope they succeed. My dad has told so many stories of his own childhood memories of playing underneath this tree. In 1929, the official town plans were laid down, and a church was built. During the 1940s, the by now famous coastal road from Gordon's Bay through Betty's Bay and Pringle Bay to Kleinmond, was built by Italian war prisoners. (See, for example, how Clarens Drive is used especially by supercar owners.)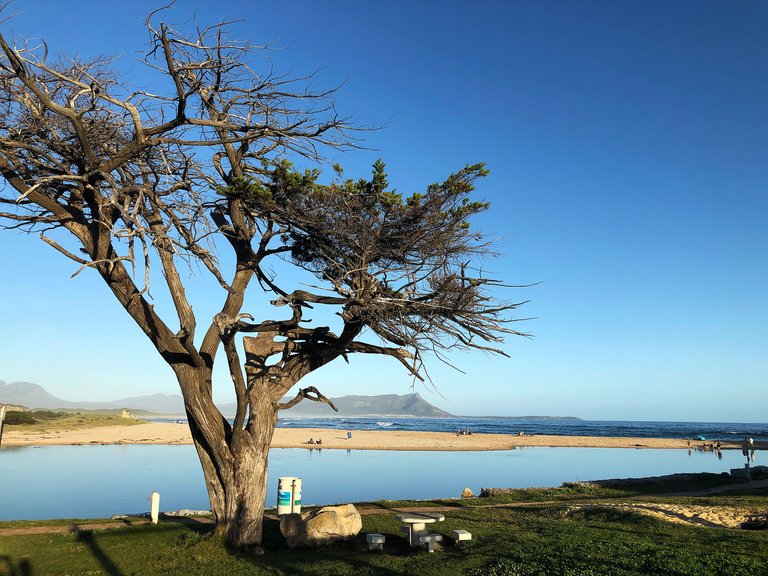 (The sermon tree.)
The Roads Leading to Kleinmond
There are only two roads leading to Kleinmond: A coastal one (by way of Clarens Drive) and one over the mountain (leading to Hermanus or Caledon). This makes Kleinmond dependent on these two roads. When one of the two roads is closed, havoc ensues. Traffic goes to a standstill and the town becomes crazy. This happens quite a lot, as both these roads are not the safest to drive on. Both are mountain passes and the one leading to Hermanus and Caledon is used by heavy transport trucks. However, both offer a unique set of nice stops and viewpoints, or farmstalls and places to eat.
Coming over the Mountain
When you drive over the mountain, you are greeted with various farmstalls. One that has become a religious stop for our family is Peregrine Farmstall.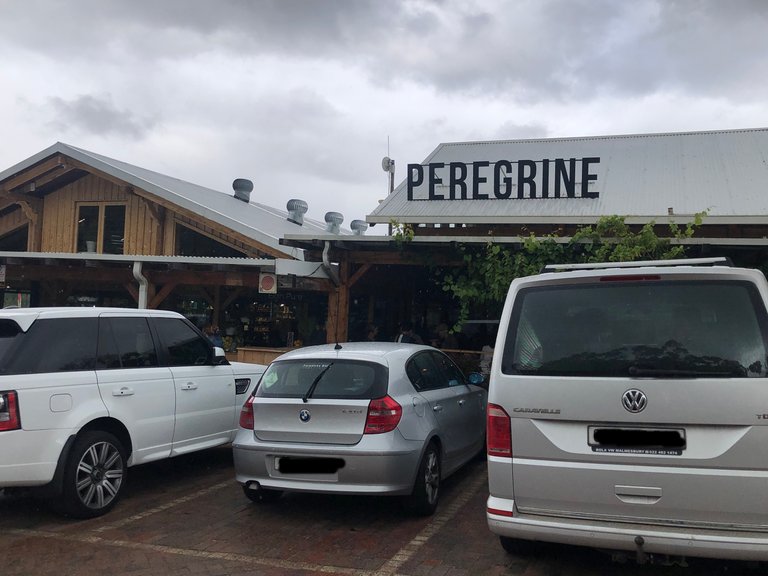 They offer freshly baked breads, and they support various local producers of, amongst other things, wine, beer, honey, and olive oil.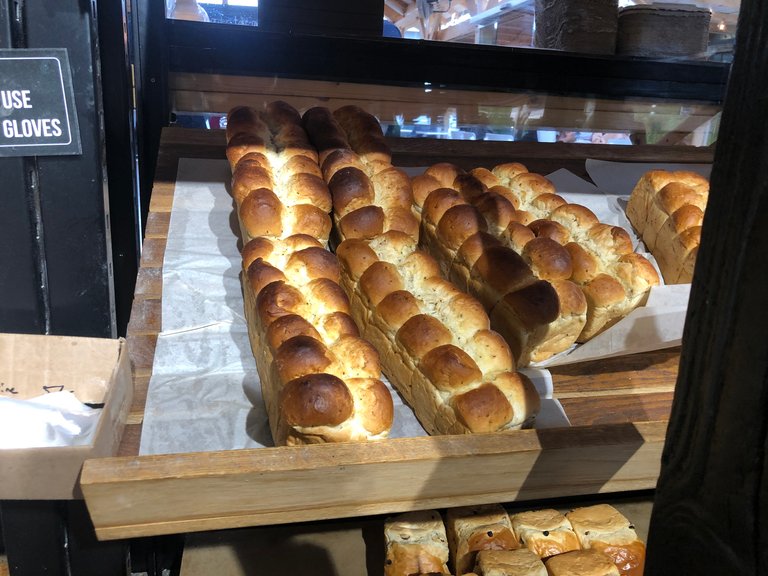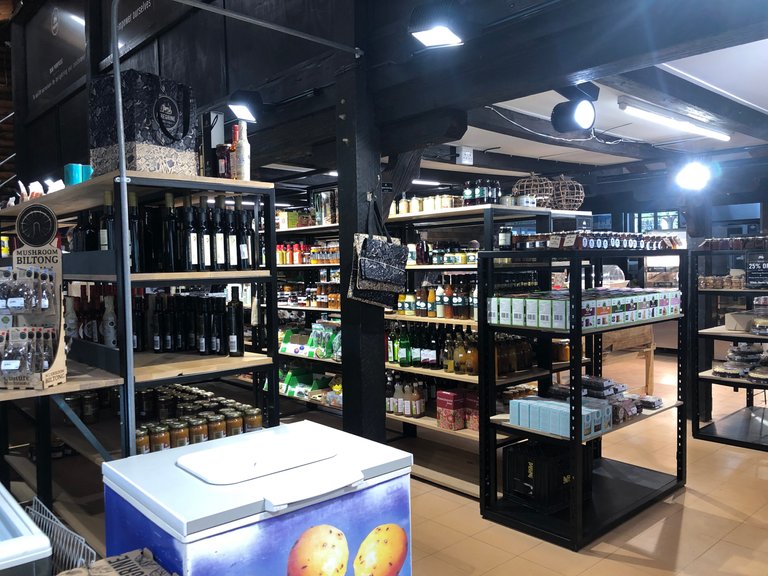 Before its commercial success and boom in becoming a tourist destination, they offered the best pies and freshly pressed apple juice that was as thick as honey. But since their commercial success and boom, these gems fell prey to capitalistic ideals. The apple juice that we so loved, got watered down (probably to suit the many visitor's pallets, and to stretch their profit margins) and it got very expensive. We still stop there though for the pies. A family tradition is the venison or Springbok pies. We cannot drive past this are without stopping for these pies.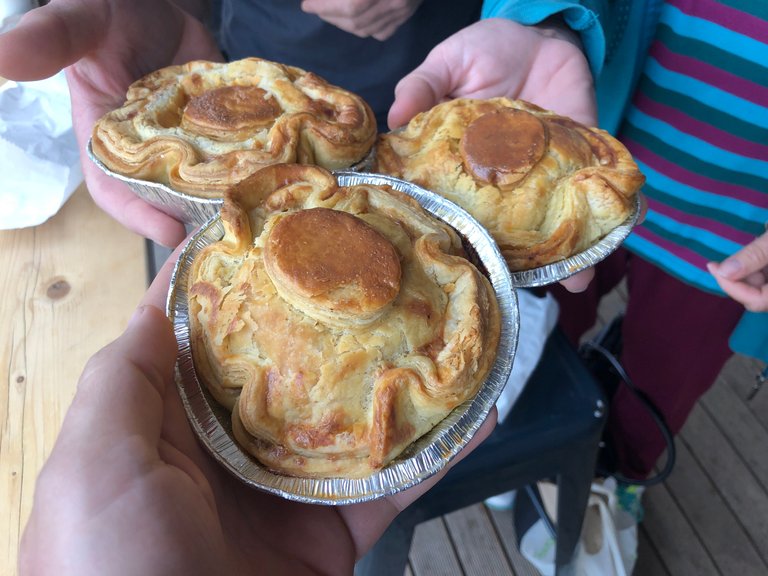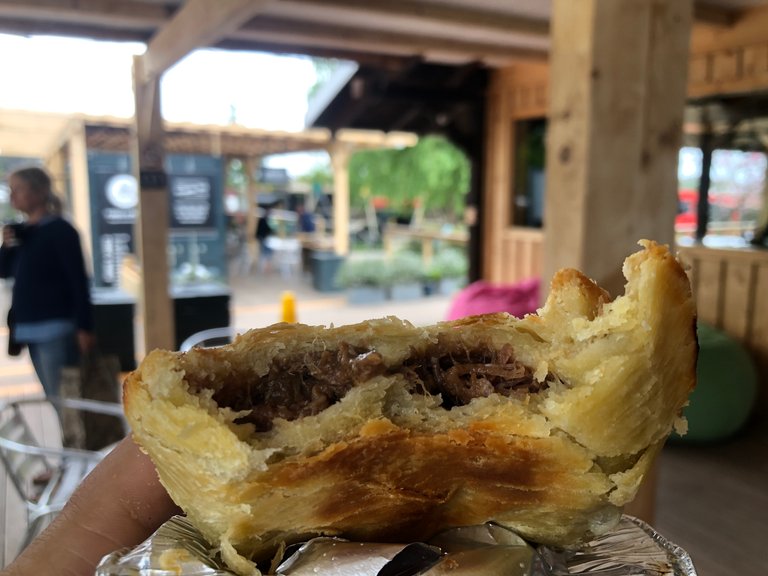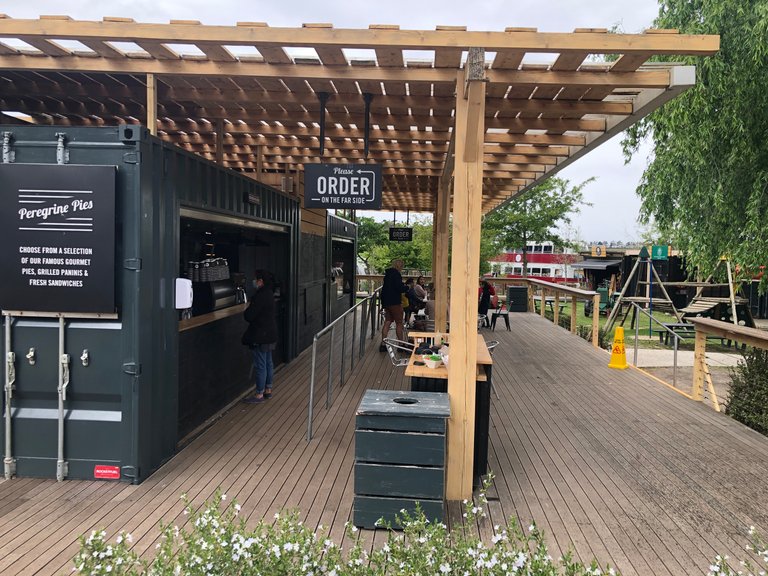 This road also leads to the famous Arabella golf course. Also very expensive, and a very difficult golf course, I had the privilege to have played there twice. Neither round was good! But the area is beautiful and various efforts have been made to get rid of alien and non-native trees and plants.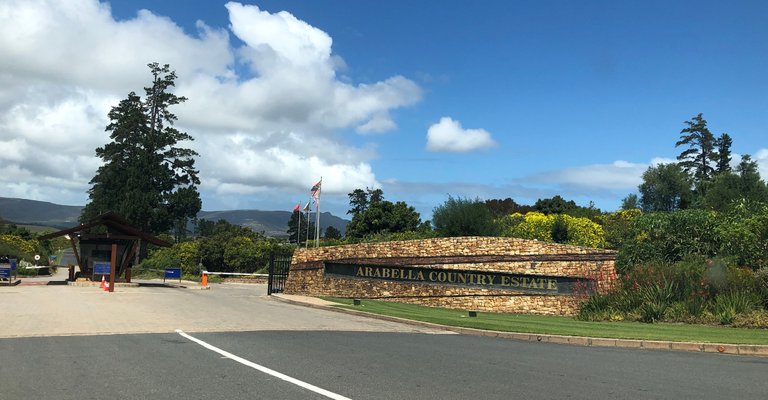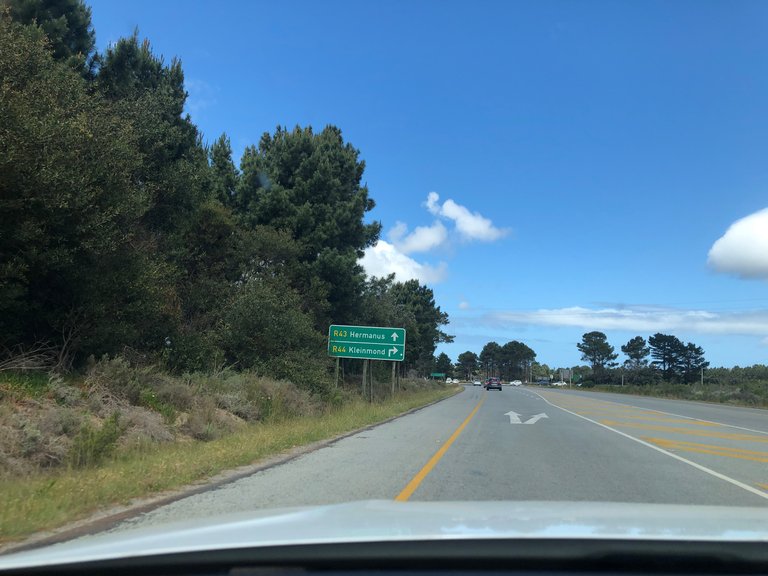 Driving Along the Coast
The coastal road is so beautiful, and recently they re-tarred the road. If you time your travels right, you get the most beautiful sunsets.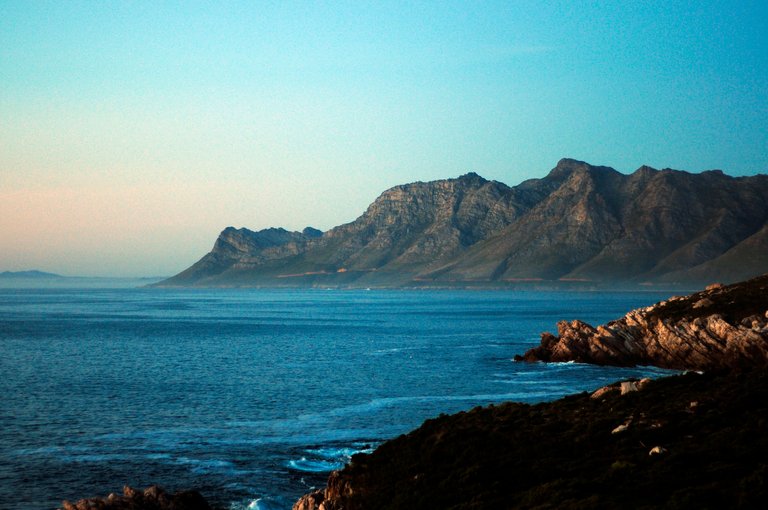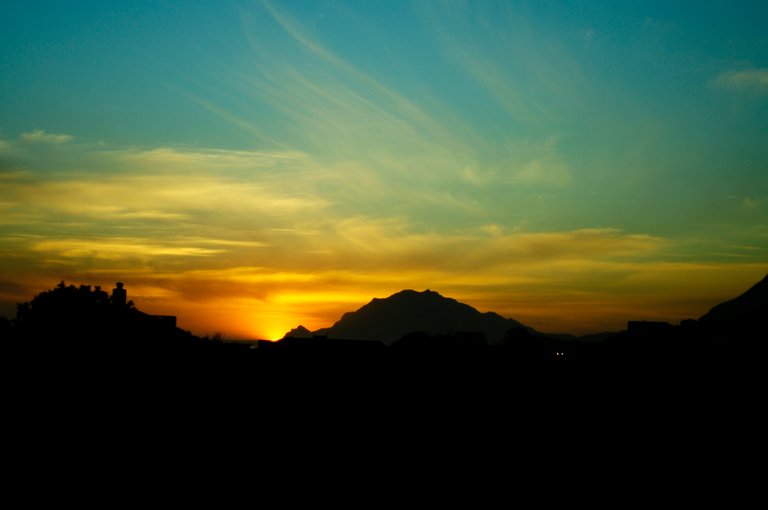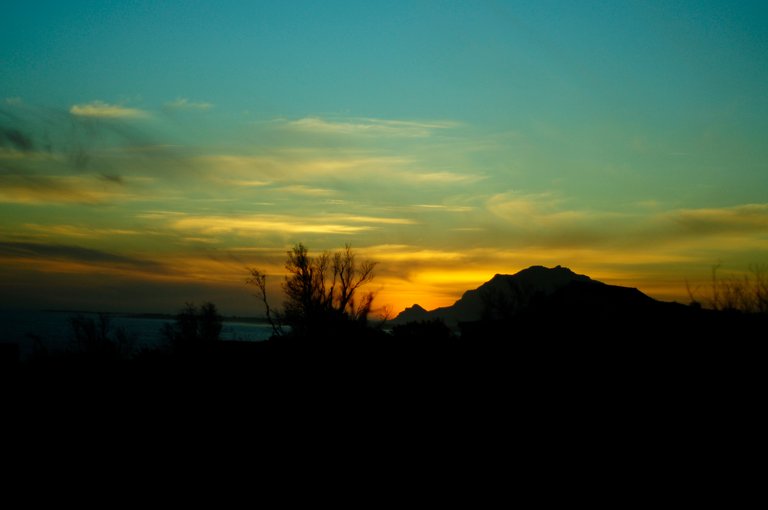 Seeing Table Mountain from the backside, you are able to see what we locals refer to as the Sleeping Queen. Using your imagination, you can see Queen Elisabeth the first (I think) laying down with her pointy nose. I have no idea if this is true, I couldn't find anything online, but it is a local story that sometimes makes the rounds.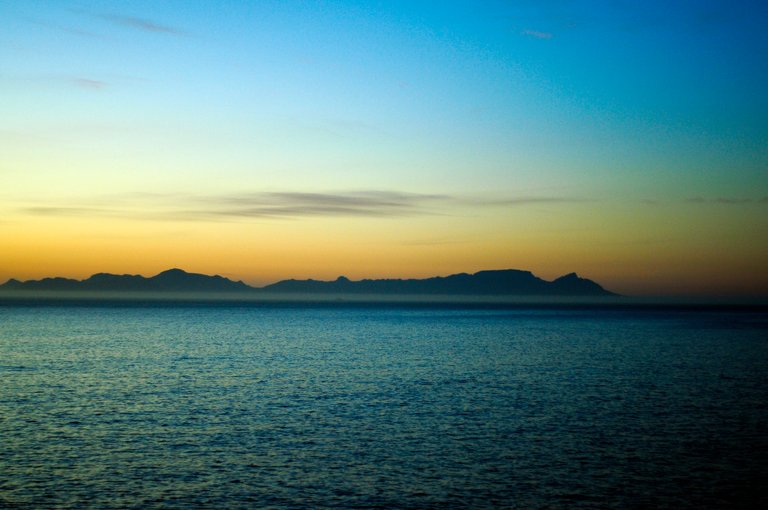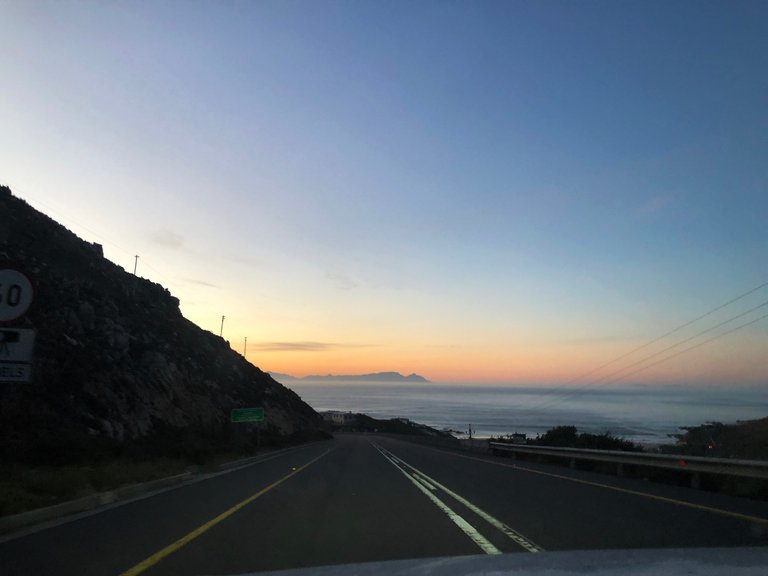 The road is also beautiful with all of the Fynbos growing alongside it. Sadly, two-thirds of the mountain burnt down in 2019 if I remember correctly, but some Fynbos actually needs the fire to spread its seeds. But this particular fire was due to gross human negligence. I think the guy is in prison who started the fire.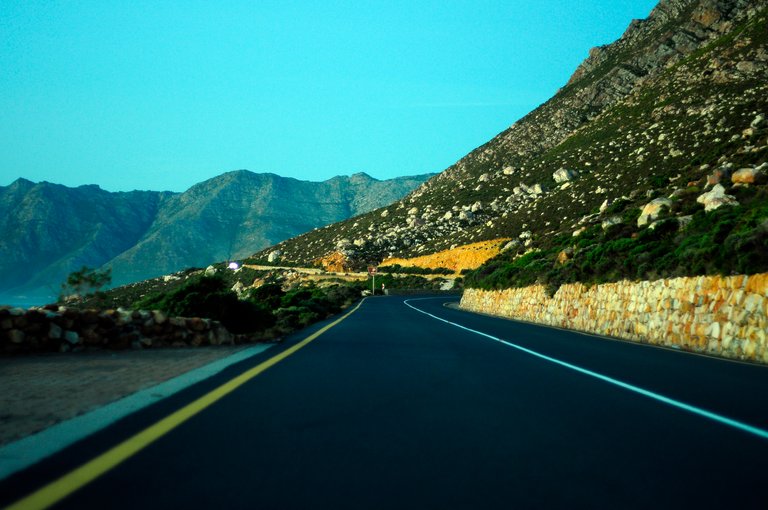 Climbing Jean's Hill
The main attraction of this post is our climb up Jean's Hill.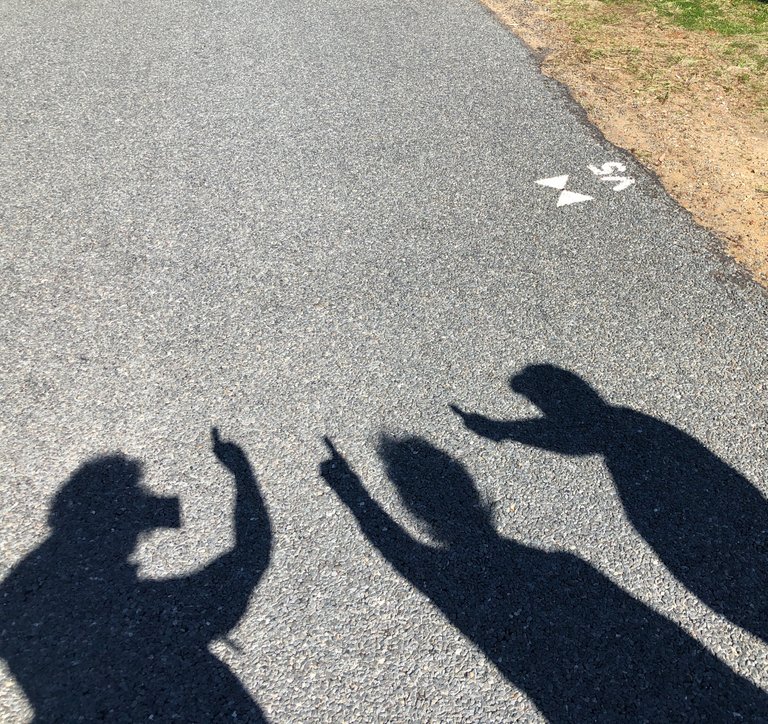 (We are ready!)
I have no idea who Jean is, and I tried to find something on the internet but to no avail. I am sure that there are various local people who might know, but I do not have access to these people (at this stage!). In any case, this is one of the shorter and easier routes to walk, or hike, with minimal climbing.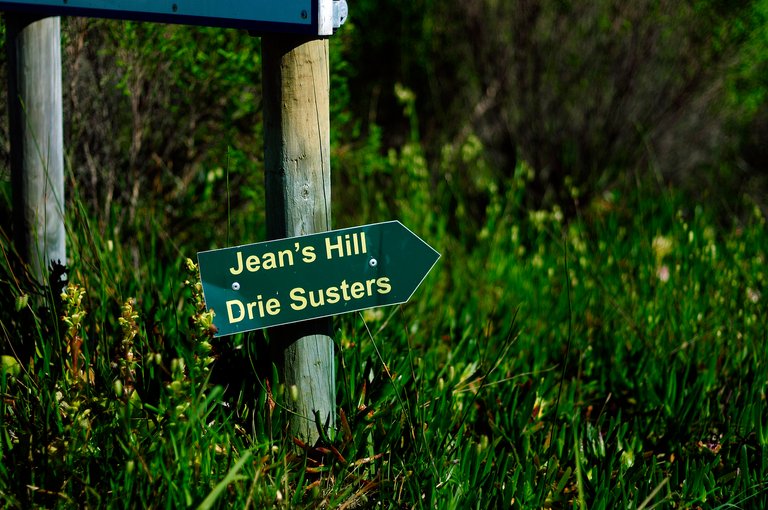 The longer routes are a bit tougher, and not for the faint of heart. You need to traverse narrow cliffs, and there are sometimes sightings of leopards! But I am more worried about the baboons who can get very aggressive. Luckily in all these years, I have not come across any.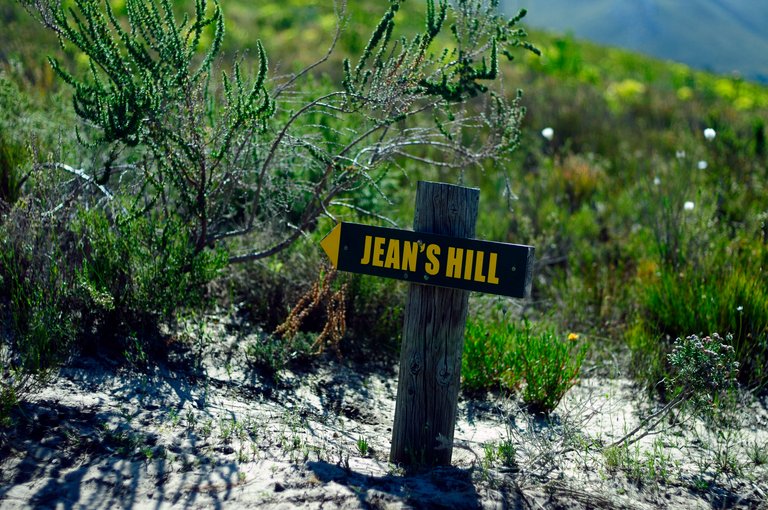 Climbing Jean's Hill will lead you up through various beautiful and big Fynbos plants. Unfortunately, their blooming season ended, and in a previous post of mine, you can see how these Fynbos flowers look like when they are flowering.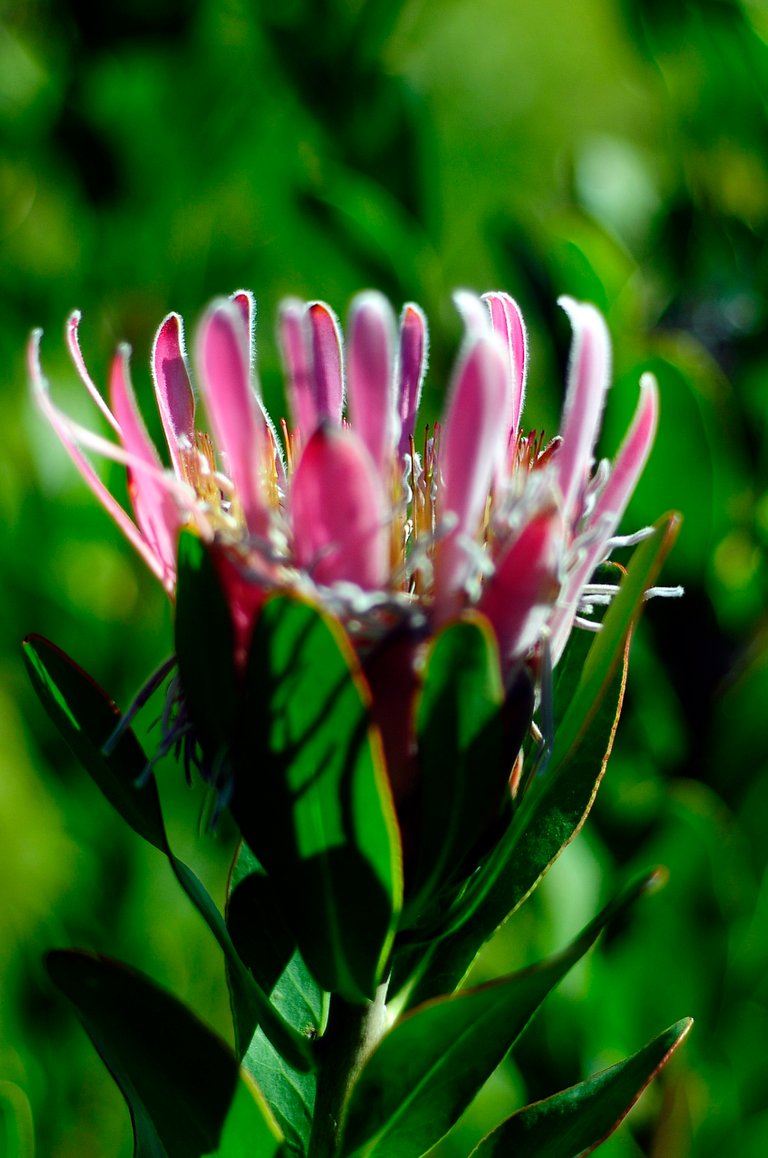 (As you can see, this flower is on its last leg!)
There were some flowers blooming, but not all of them. What stood out was the amount of new growth! That is a good sign for the ensuing flower season.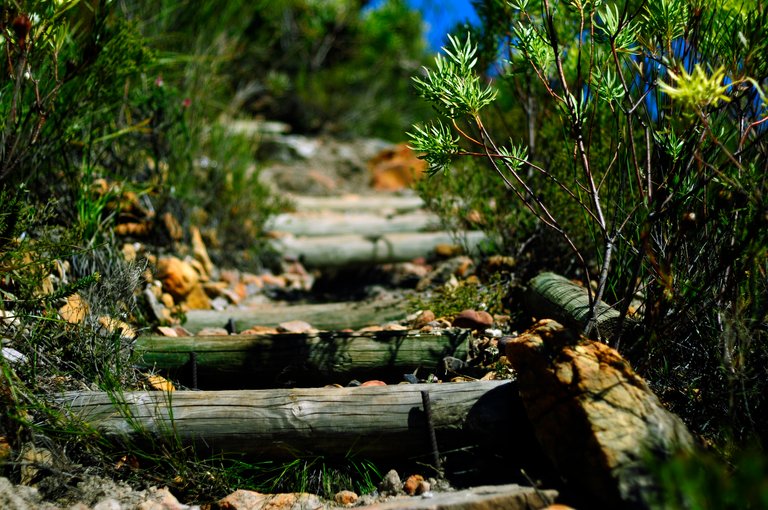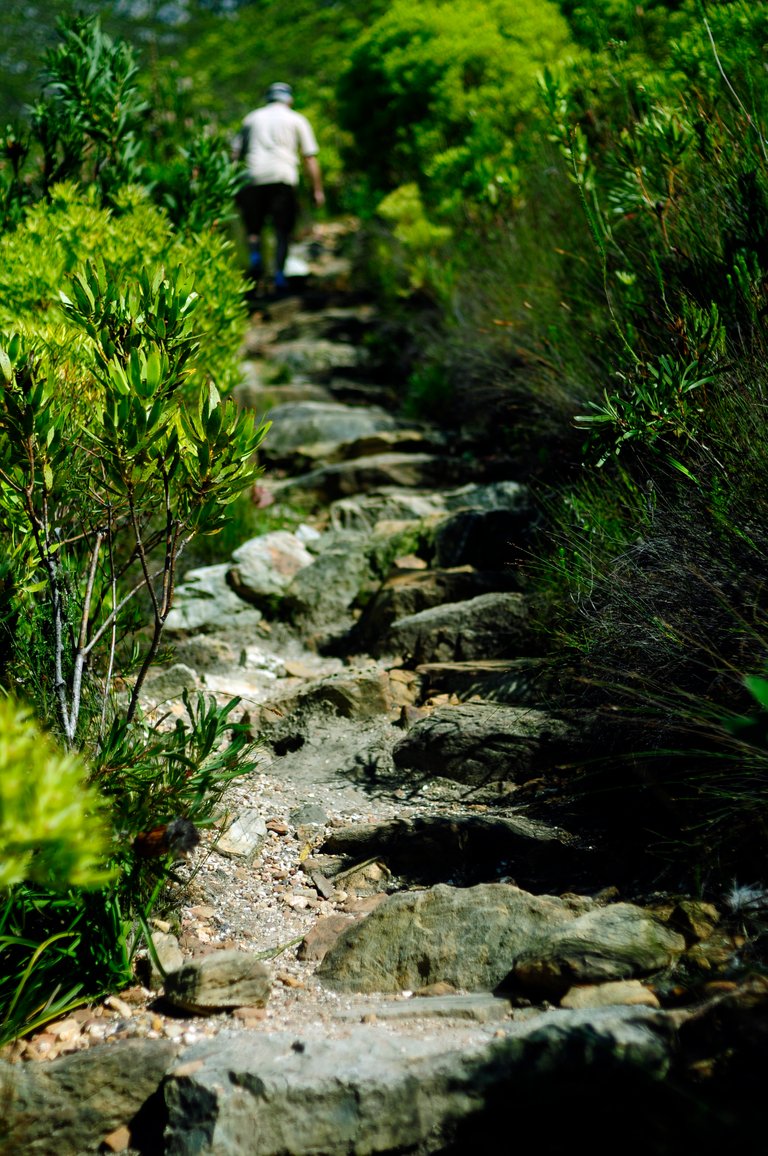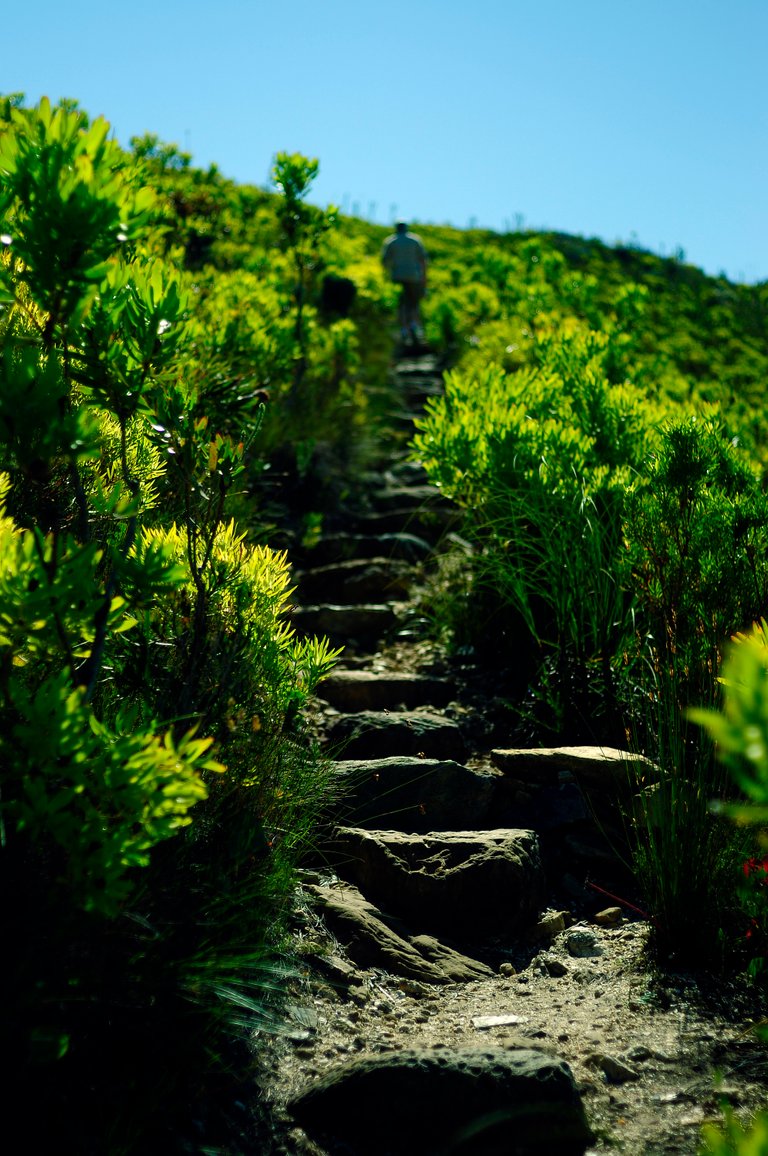 Jean's Hill is just around the corner!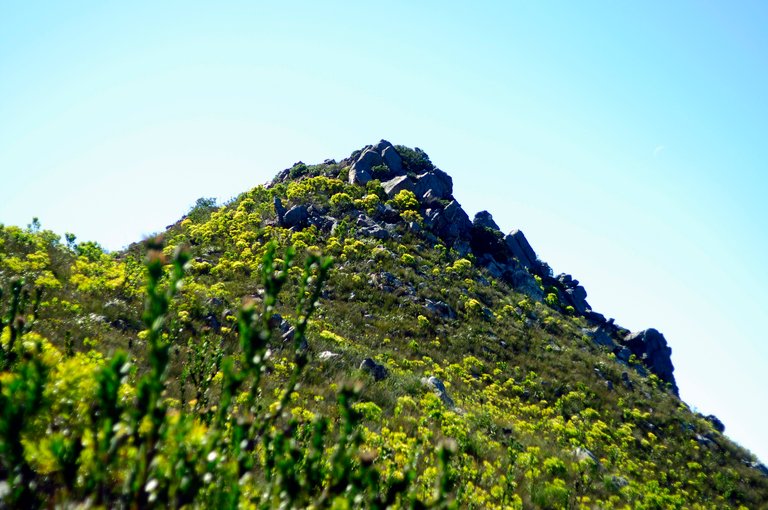 (This is Jean's Hill from the back.)
Reaching the top of Jean's Hill, you need to either place a stone on the pile with the other ones, or place a pebble in this interesting rock. Various previous hikers already did it, and with the winds blowing some of the pebbles out, you can always find some space.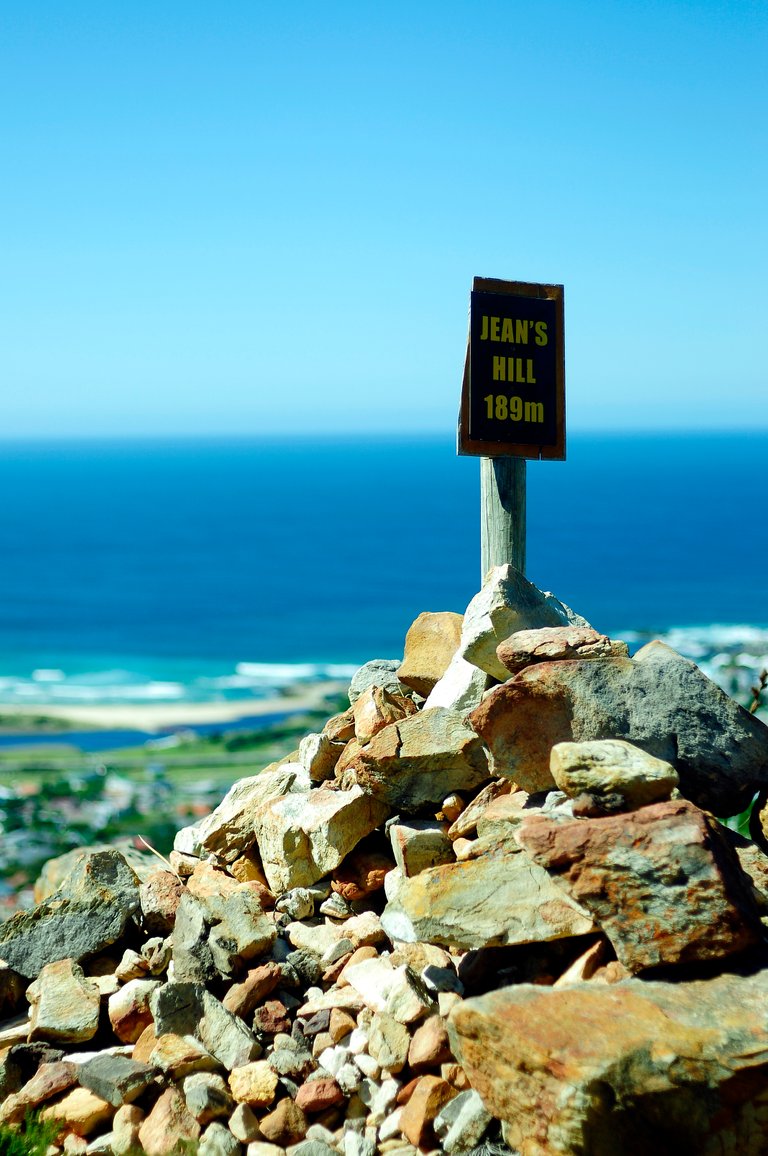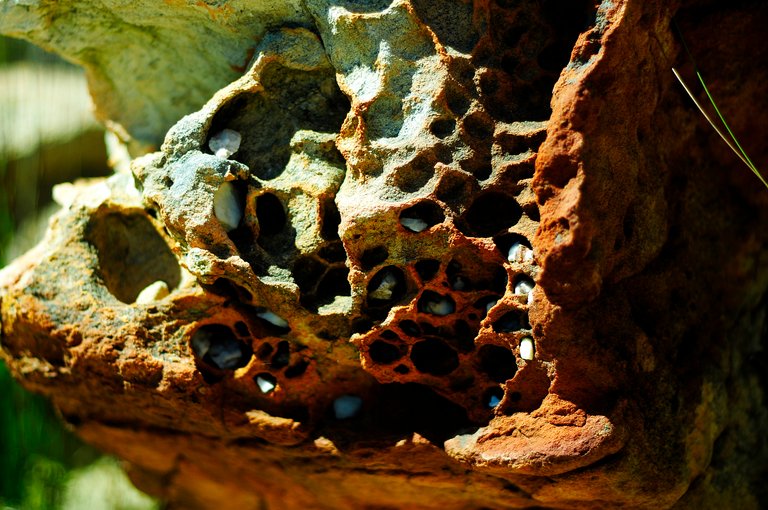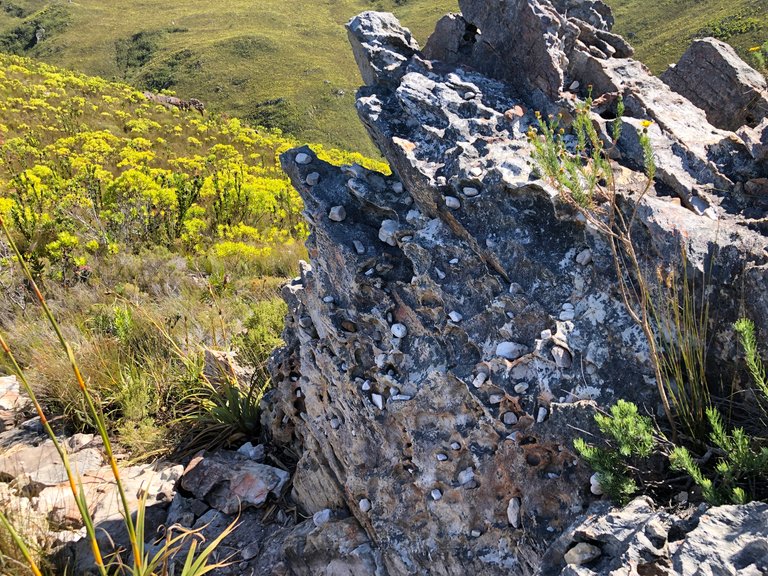 The views from the top are spectacular. You can see Kleinmond Golfclub and the whole of Kleinmond.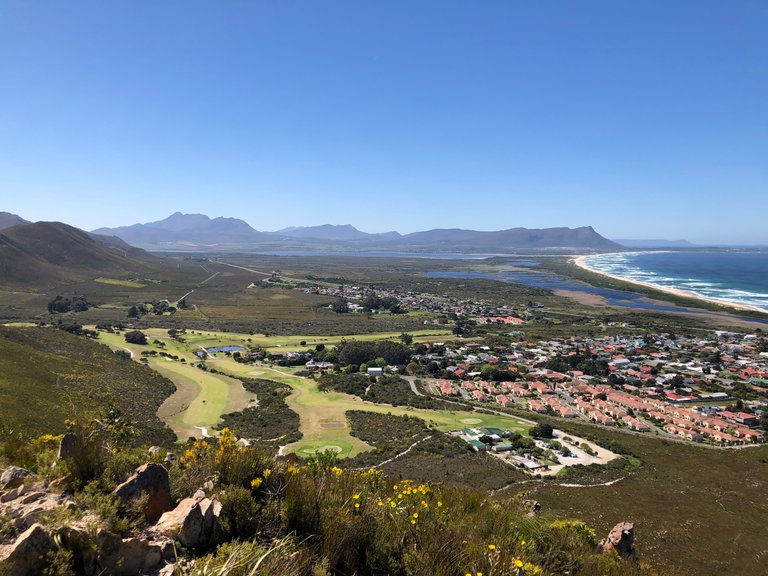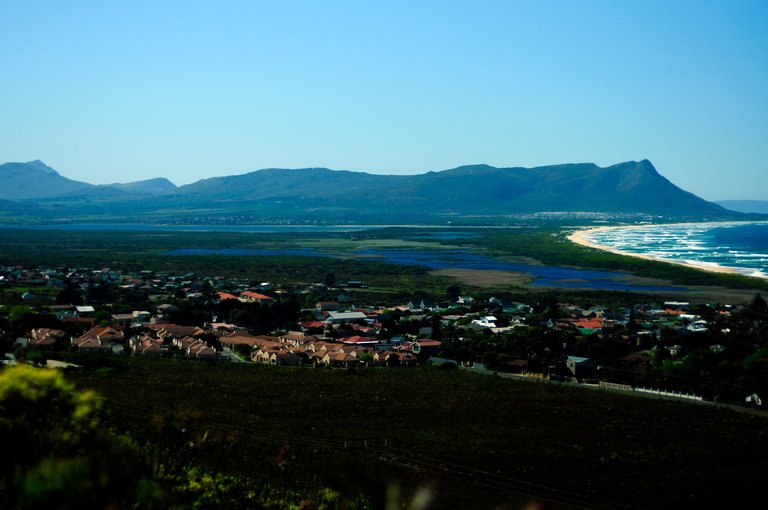 You can walk back the same way you came, that is down with Jean's Hill, or you can walk to the other side of the hill via the Hanneshoek (corner) trail.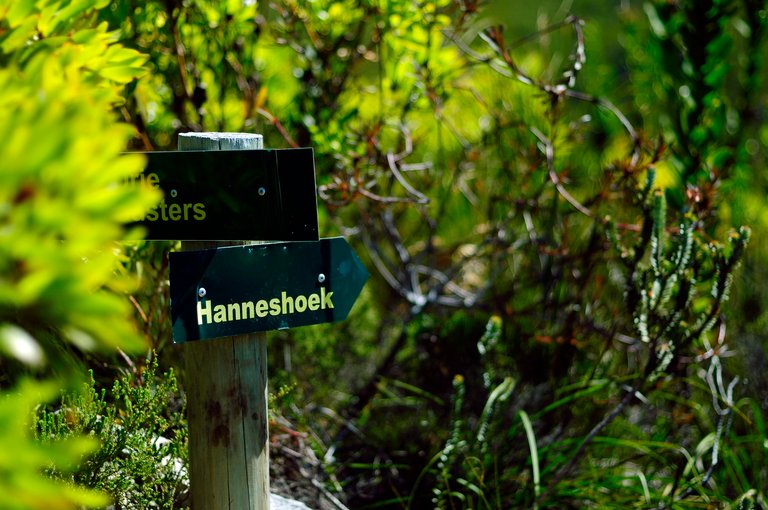 This will lead you to the golf course, where you can enjoy a cold beer as a reward for your hike!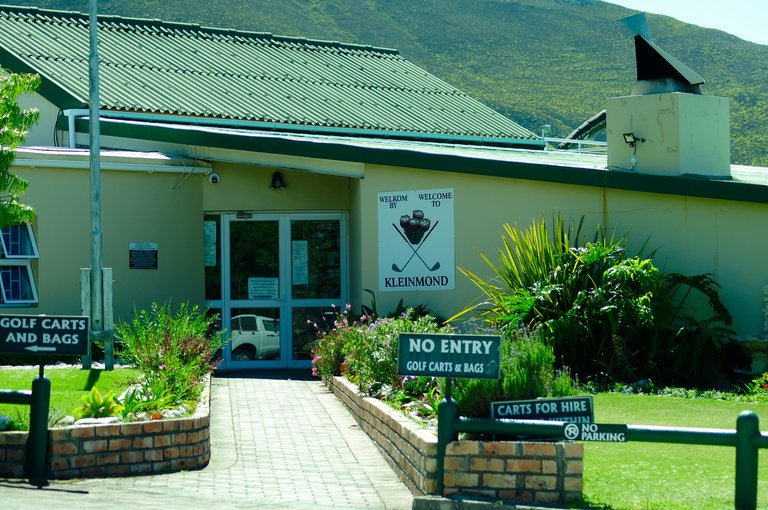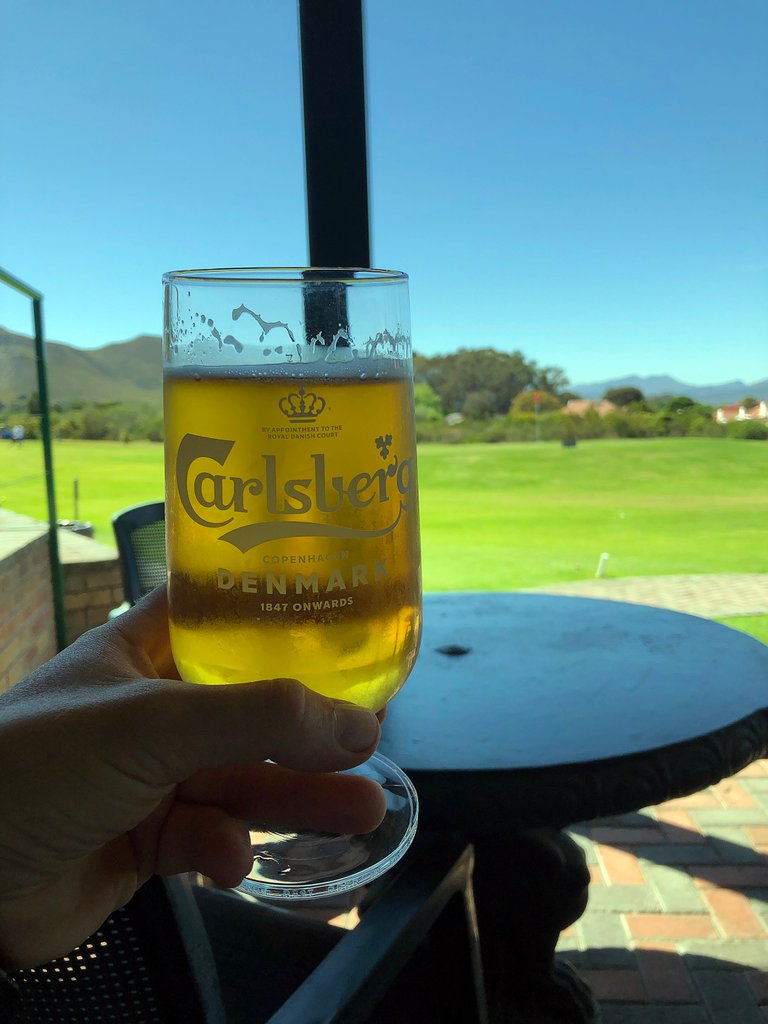 A Long Stretch of Blue Flag Beach
You can also visit the Blue Flag Beach that stretches on for seeming miles. (Read more on what it means to be a Blue Flag Beach.) The beach is never overcrowded unless it is New Year's eve. The beach is also very clean, and it is such a pleasure to walk on. I have tried to walk the whole length of the beach, but I have never succeeded. There is various wildlife that visits the beach, from birds to whales. Hermanus is the ideal place to do whale spotting, but we have seen various whales throughout the years at Kleinmond as well. The ocean is quite rough here, with various dangerous currents. It is not the best beach to swim at, but there is the lagoon which is nice as well.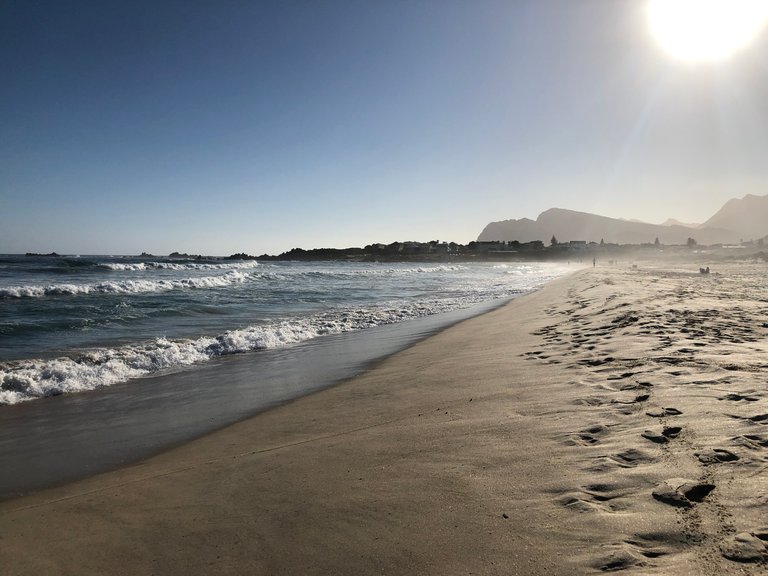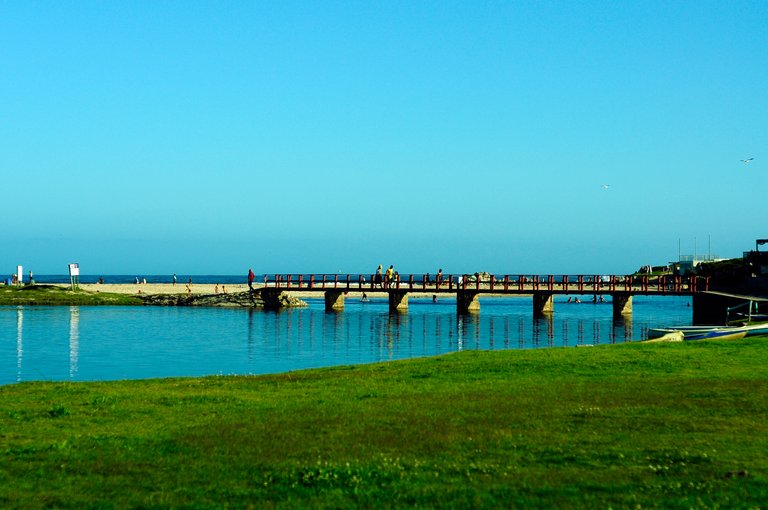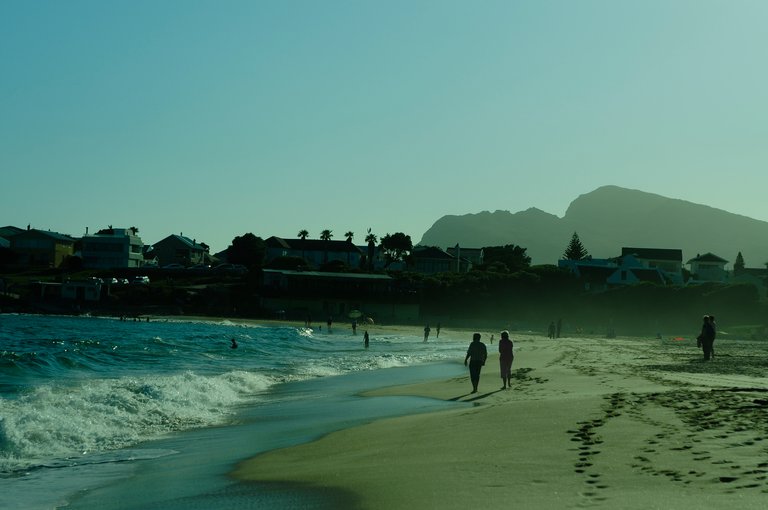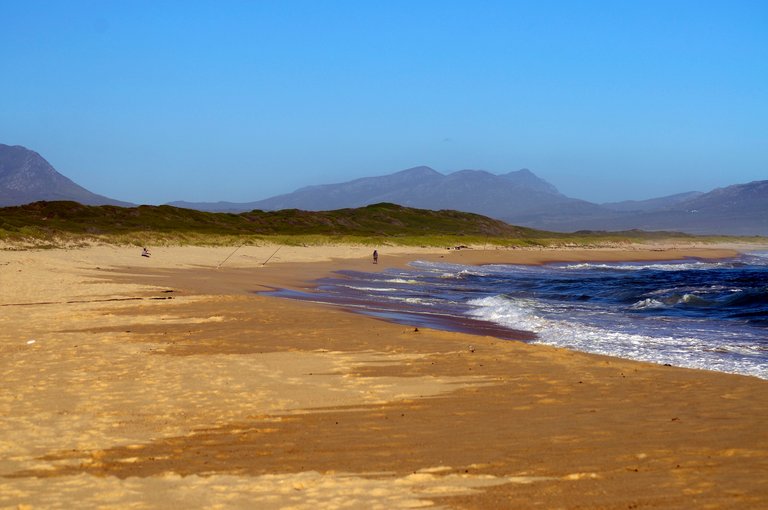 Walking Through the Town: Quirky Home Names
There are various trails next to the ocean between the local Fynbos plants. But you can also opt to walk through the streets, as some people's gardens with the local Fynbos are also beautiful.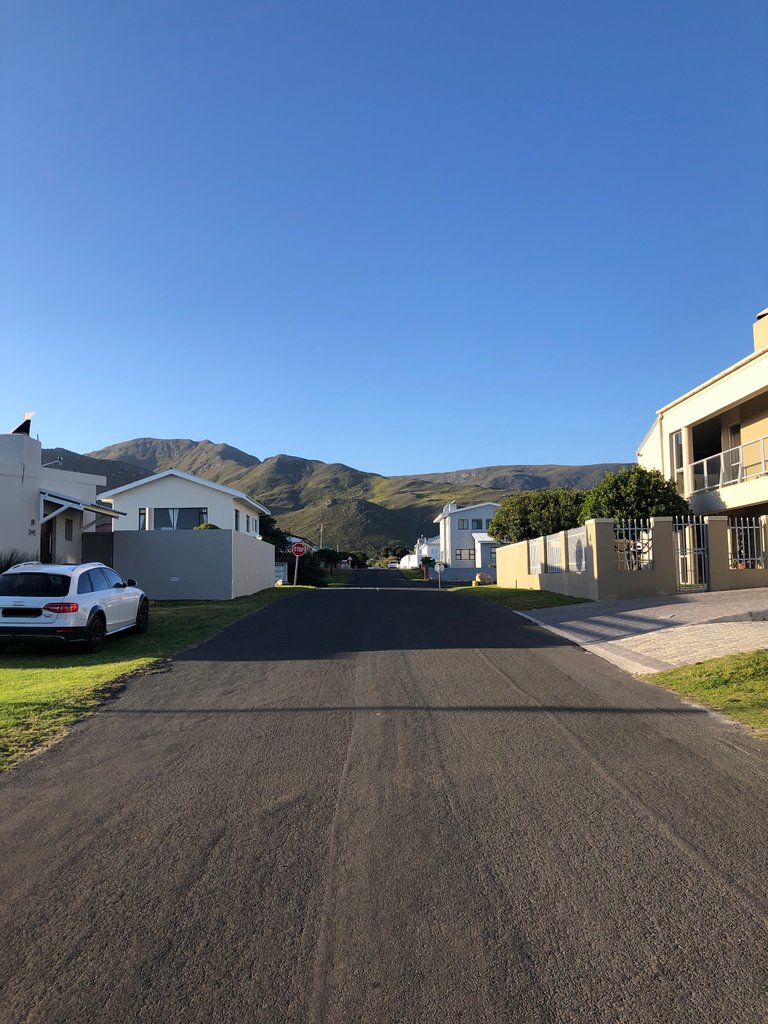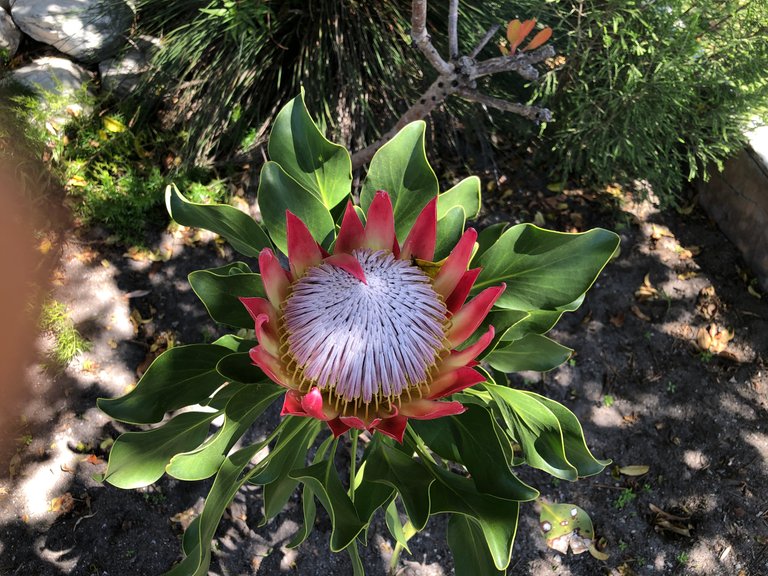 (This King protea is growing in someone's back yard.)
However, some houses have quirky names! It always provides a laugh when you walk past one with a nice name. Here are just a few (with my own translations):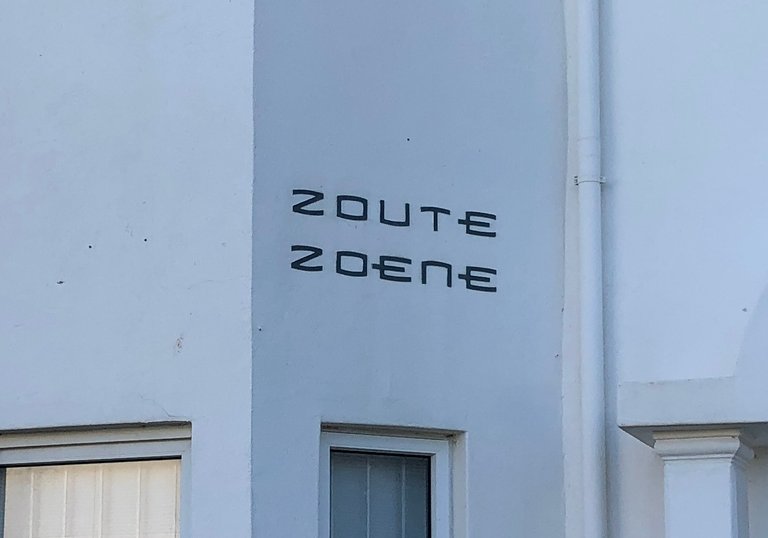 (Salty Kisses)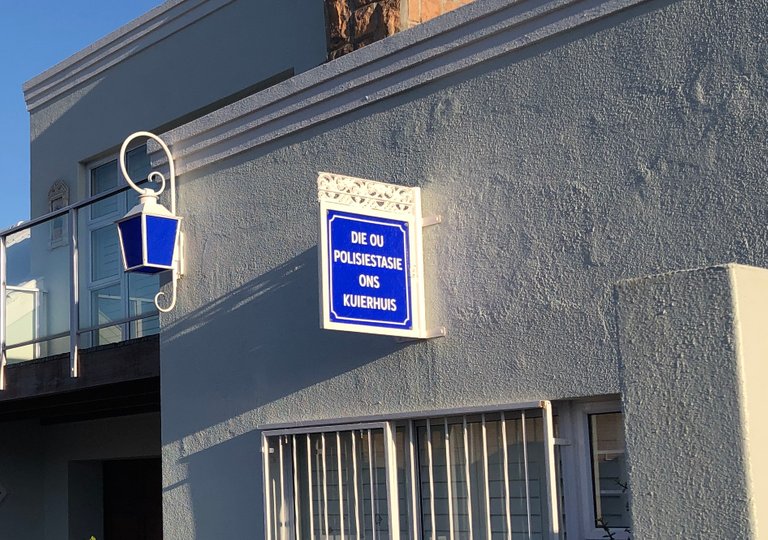 (The Old Police Station, Our Party/Gathering/Visiting House)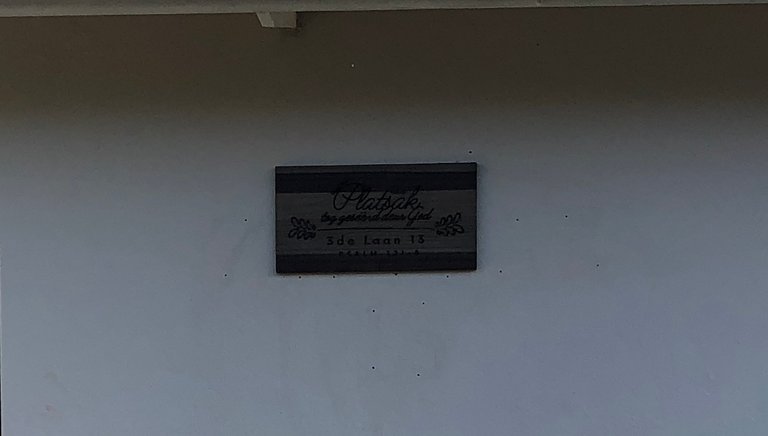 ("Platsak" in Afrikaans means that you are broke, directly translated to "flat pocket"; meaning they are broke after buying this house.)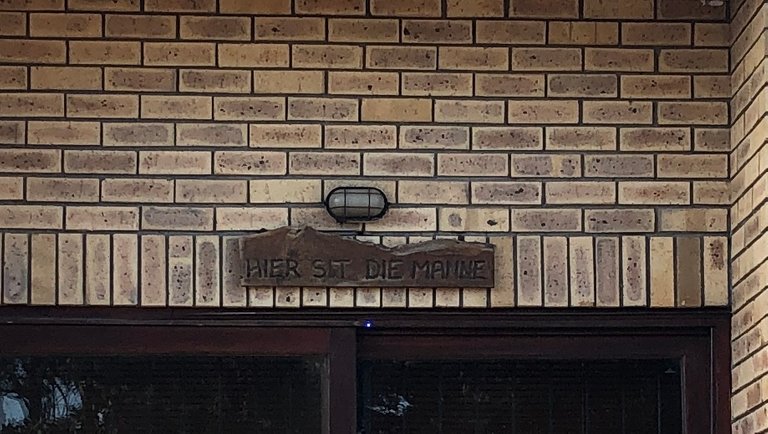 (Here the men sit.)
The Many Paths to Walk
There are so many pathways you can walk, along the beach or in the fynbos. This is extra or on top of the hiking trails. The people keep them so nice and clean and it is always a pleasant walk with stunning views.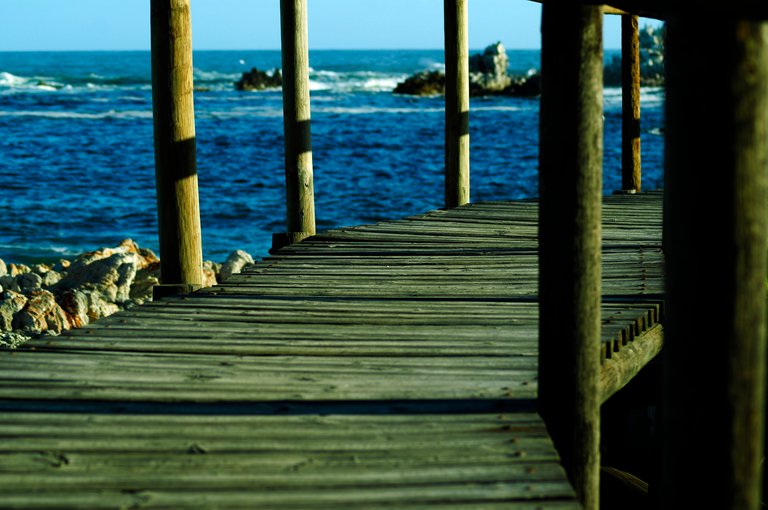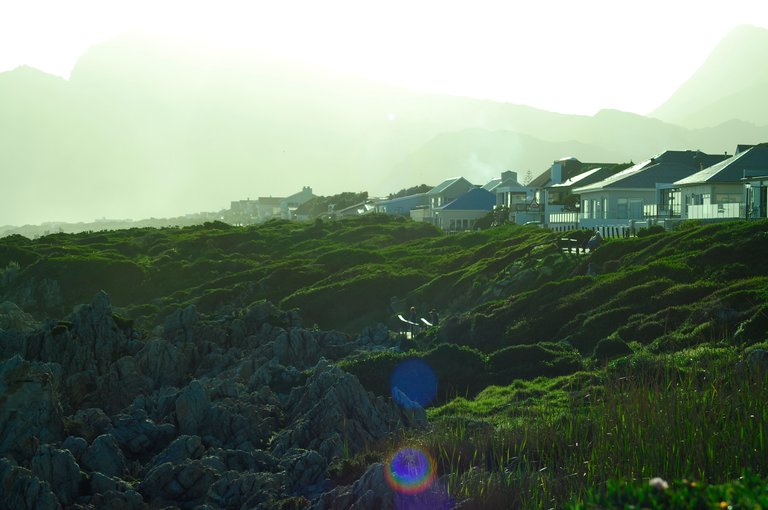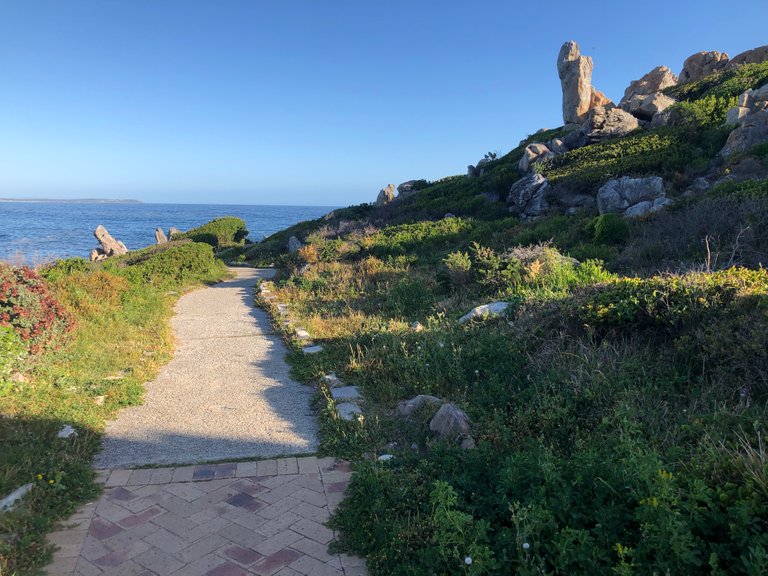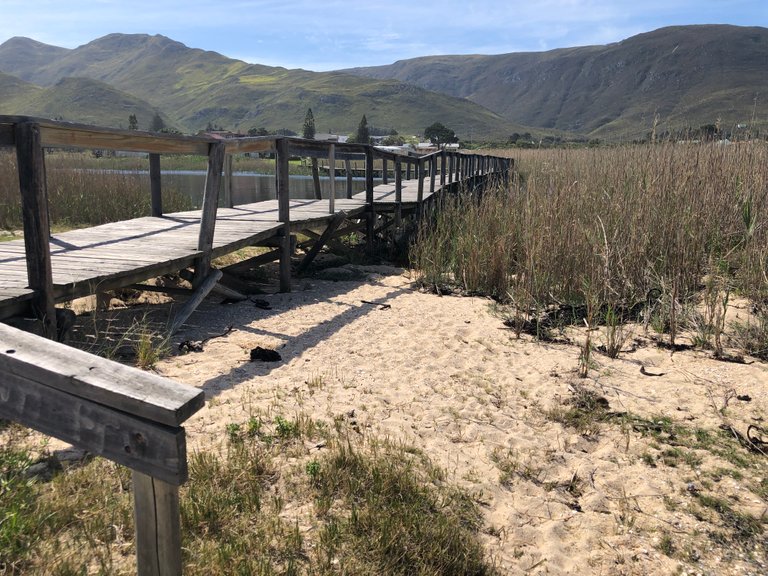 In any case, I hope that you enjoyed this virtual travel with me! All the images are taken with my old and trust Nikon D300, zoom lens or 50mm, and my iPhone. I am also not paid by the named shops or anything. I just like visiting them. I hope that you can someday travel here so that you can also enjoy this beauty. Stay and travel safe!